Index>Articles>Article
---
Weakened ties cause derailment in Sussex

Bergen Record
---
By Eugene Kiely
Staff Writer

FRANKLIN - Weak railroad ties apparently caused a freight train to derail and catch fire in a residential area of this Sussex County town late Sunday night, a railroad company official said after an investigation yesterday.
Tom Rathbone, a vice-president of the New York Susquehanna and Western Railway, said the railroad ties apparently could not handle the weight of a locomotive. However, the company ran strength tests at the crash site last week he said.
"Perhaps a small group of ties which were not replaced during this summer's
rehabilitation project allowed this rail to spread under load," Rathbone speculated. The preliminary cause was determined yesterday after an investigation by the company and the Federal Railroad Administration, he said.
The accident which occurred about midnight Sunday, knocked 10 of the train's 108 cars off the tracks. Two boxcars(containers) carrying paper and all-terrain vehicles caught fire - prompting the evacuation of nearby residents from about 30 homes on Newton and Susquehanna streets, said Franklin Detective Sgt. Louis Kulsar.
No Hazardous Material
Kulsar speculated that the fire resulted from gasoline in the ATV's.
The fire was brought under control about 1:30 a.m. and residents were allowed back to their homes about 4 a.m., Kulsar said.
Although some early news reports indicated that the derailed cars contained hazardous materials, the state Department of Environmental Protection yesterday said those reports were incorrect.
"There was no sign of any dangerous toxics in the smoke," said James Staples, a DEP spokesman. Kulsar, who was at the scene, said about 60 residents were evacuated, because "we didn't know what was in" the boxcars. (containers)
One Franklin volunteer firefighter, Leonard Helmstetter Jr., suffered smoke inhalation and was admitted to Walkill Valley General Hospital in Sussex. A hospital spokeswoman last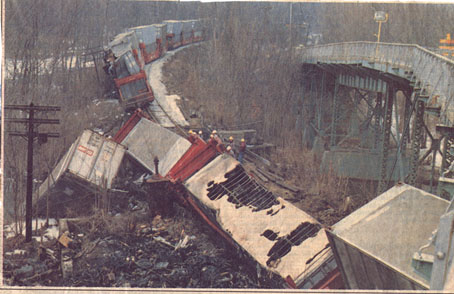 night said Helmstetter was in satisfactory condition.
The derailment was one of several to occur on the 24 and a half mile railroad line between Sparta and Butler since it was reactivated for freight transportation in October.
Kulsar said there had been derailments in Hardyston and Sparta, which are in Sussex County. A five car derailment in Riverdale Oct. 19 temporarily closed the Hamburg Turnpike-Matthews Avenue intersection while repairs were made.
Kulsar said Route 631 would be closed for perhaps "several months" because the derailed cars struck and damaged the steel bridge that carries the county highway over the railroad.
The train, which started in Binghamton, N.Y., and was heading for Little Ferry, was traveling at 23 m.p.h. at the time of the crash, 2 m.p.h. below the speed limit, authorities said.
Rathbone said he hoped to have the Franklin line reopened by tomorrow.
The entire line of the New York, Susquehanna and Western Railway consists of 56.5 miles of track from New York State to Sparta Junction and east through Butler in Morris County to Elmwood Park in Bergen County.
The railroad performed $6 million in track repair work within the last year.